CONFERENCE TO BE HELD IN
Hong Kong


Published by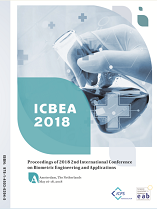 Certified by
Supported by

CONFERENCE THEME (CFP Brochure Download)

2017年生物識別工程與應用國際會議將於4月21-23日在香港舉行。ICBEA 2017旨在為全世界生物識別工程與應用等相關領域內的專家學者提供專業的學術交流平台,促進生物識別與應用相關領域的交流與合作。歡迎大家踴躍報名參加!
This conference provides opportunities for the delegates to exchange new ideas and application experience face to face, to establish business or research relations and to find global partners for future collaboration. Submitted conference papers will be reviewed by technical committees of the Conference.
HIGHLIGHTS

• Publication
After a careful reviewing process by at least 2-3 experts, accepted papers for the ICBEA 2017 will be published in International Conference Proceedings Series by ACM, which will be archived in the ACM Digital Library, and indexed by Ei Compendex and Scopus and submitted to be reviewed by Thomson Reuters Conference Proceedings Citation Index (ISI Web of Science).
ICBEA 2017的會議論文集由ACM出版, 并由Ei Compendex & Scopus 檢索。
Publication Ethics - Penalty against Plagiarism
We firmly believe that ethical conduct is the most essential virtual of any academic. Hence any act of plagiarism is a totally unacceptable academic misconduct and cannot be tolerated.

One Best Oral Presentations will be selected from each oral session. The Certificate for Best Oral Presentation will be awarded after each session of the conference on April 22, 2017.
IMPORTANT DATES

Paper Submission (Full Paper) Before December 15, 2016
Notification of Acceptance On January 10, 2017
Final Paper Submission Before January 30, 2017
Authors' Registration Before January 30, 2017
Conference Dates April 21-22, 2017
Academic Official Visit April 23, 2017

NEWS OF CONFERENCE

November 30, 2016, News! ICBEA 2017 has been listed in Sciencemeeting Online, which is administrated by Ministry of Education of the People's Republic of China. (Click)
November 9, 2016, News! The accepted papers of ICBEA 2017 can be published in ACM conference proceedings. (Click)
October 25, 2016, News! Many distinguished experts and scholars have joined in ICBEA 2017 as committee member. (Click)
COMMITTEES

Prof. David Zhang
The Hong Kong Polytechnic University, Hong Kong

Prof. Yuan-Ting Zhang
The Chinese University of Hong Kong, Hong Kong

Prof. Dimitrios Hatzinakos University of Toronto, Canada

Prof. Guangming Lu Harbin Institute of Technolog, China

Prof. Phalguni Gupta IIT-K, India
SUBMISSION & CONTACT METHODS

• Submission Method:
Electronic Submission System; ( .pdf)
Each paper is limited to 8 pages normally, and additional pages will be charged. Please follow the ICBEA 2017 Conference template below.
• Contact Method: (Please do not submit paper to this e-mail address)
Email: icbea@cbees.net